PORTALS TL 2
-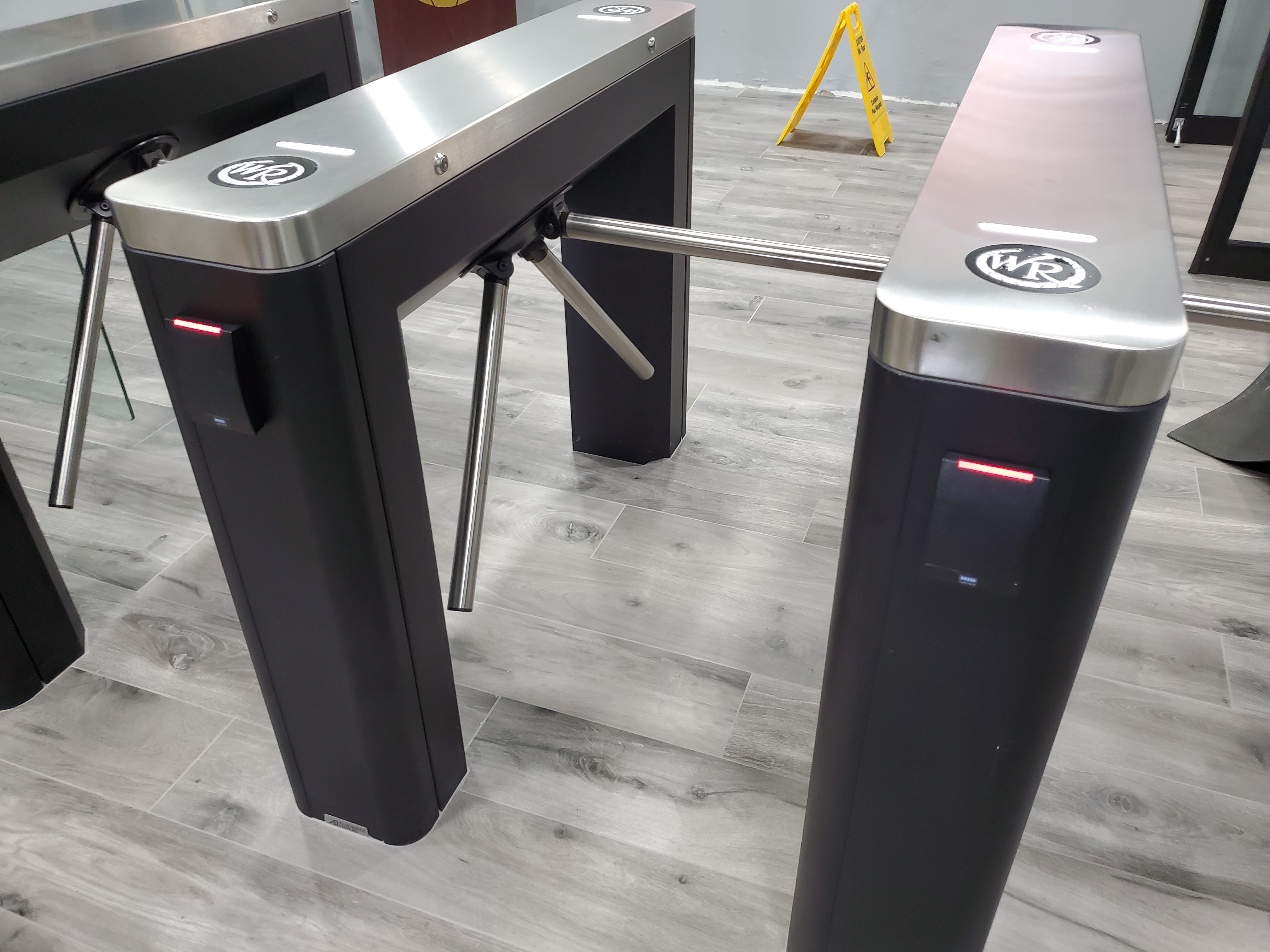 -
Description
The tripod turnstiles of the TriLane brand are concieved for deterrent and economical access control and allow equipment incorporation of conrols like: proximity reader, barcode scanners, badge collectors, facial regconition cameras... .
Their mecanics, of robust and reliable conception, exist in different configurations covering all cases that can be met in matter of pedestrian access conrol.
The TriLane mecanism has, in the options, an anti-panic device ensuring the automatic tilting of the tripod arm in case of power failure.
The free access allows uninterrupted passage of users. The arm is manually reset when the power supply is restored or by means of the optional motorization.
The TriLane turnstiles can be installed inside or outside, alone or with a battery.
This can be supplemented with an AccessLane gate to create a passageway for people with reduced mobility.
-
Options
1. Drop arm.
2. Bidirectional passage.
3. Function pictogram (per direction of passage).
4. Function pictogram and reader integration kit (per direction of passage).
5. Detection of attempted fraud by TOF* sensor.
6. Full stainless steel body 304L.
7. 304L stainless steel end boxes (2 directions of passage).
8. Full stainless steel body 316L.
9. Door for stainless steel end box (per direction of passage).
10. Network connectivity (IP).
11. Choice of paint: RAL5008, RAL6014, RAL7003, RAL7016, RAL9010 (only for steel parts).
12. Thermostatically controlled heating (down to -20°C).
13. Thermostatically controlled heating (down to -40°C).
14. Push button (free output).
15. Motorization with assistance to the movement and reset of the falling arm.
16. SafeFlow column.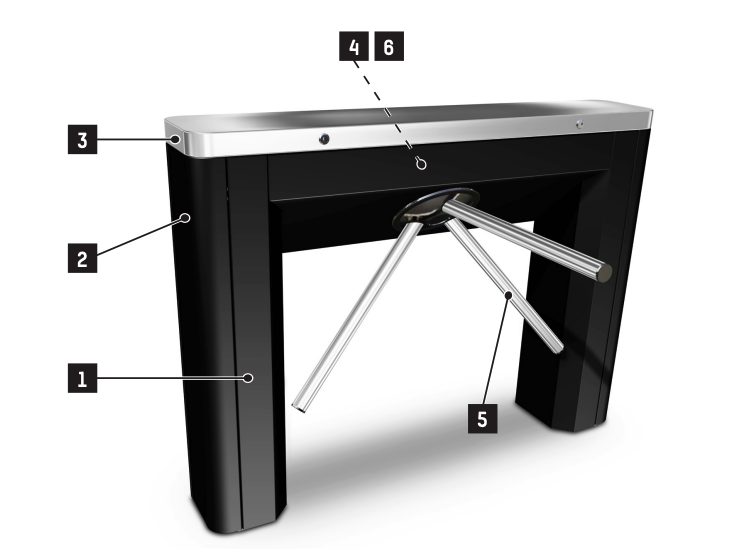 -
Default Equipement
1. Self-supporting body in painted steel (RAL9005).
2. Front and rear aluminium end boxes. They contain a space (to be customized according to the option), in each direction of passage, for the possible incorporation of access control devices.
3. Removable upper cover, made of 304L stainless steel, locked by lock, allowing access to the tripod mechanism.
4. Tripod mechanism: the tripod rotation is locked by electromagnets and locking cams. Depending on the chosen mode, an anti-return device prevents reverse rotation (unidirectional control as standard and bidirectional as an option).
5. AISI 304 stainless steel arm.
6. Electronic control logic AS1635.
Default Technical Caracteristics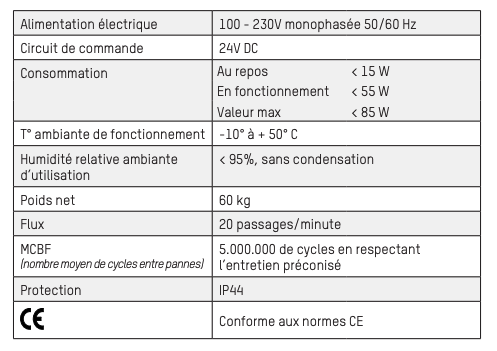 -
Work done by Customer
- Electrical power supply.
- Electrical wiring for power supply and connection to the control units.
- Masonry impacts and possible sealing (see installation plan).
PORTIQUES TL 2
PORTALS FL 9x0
-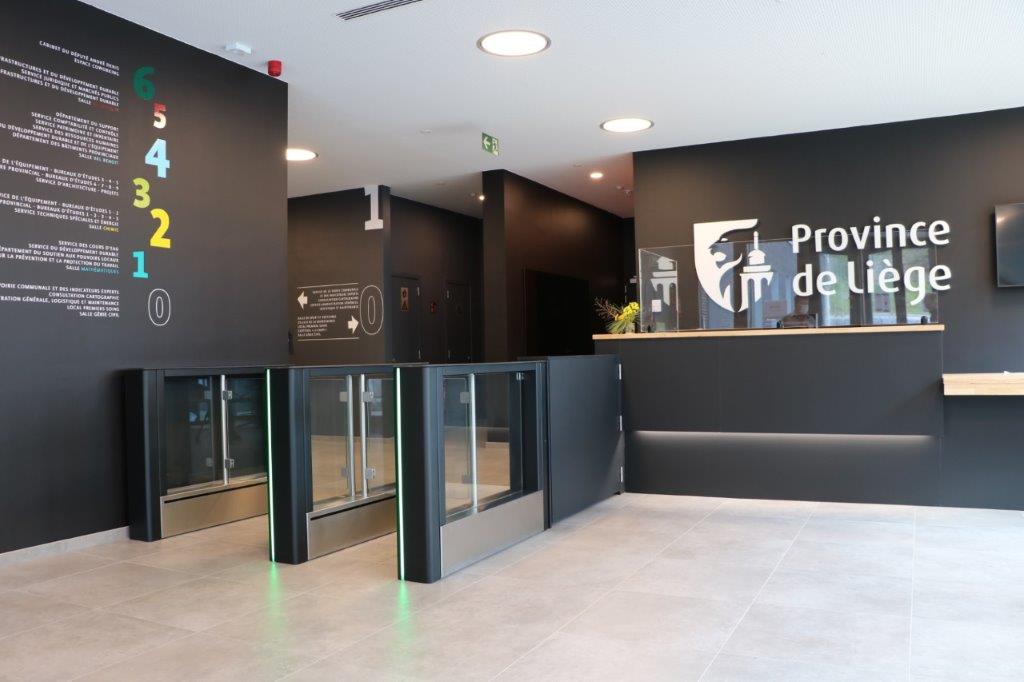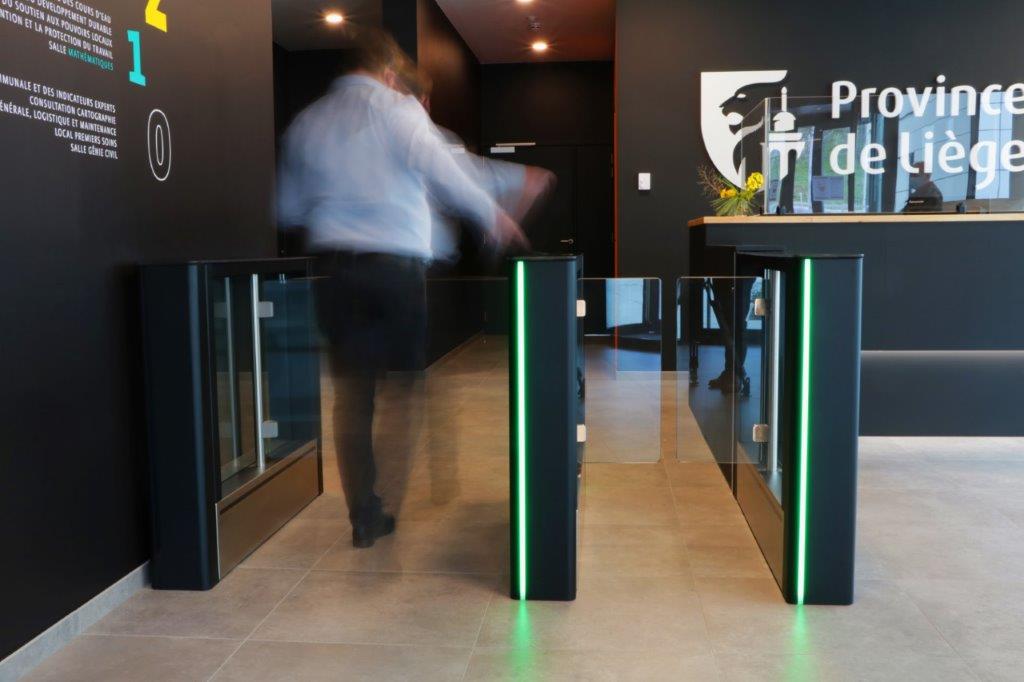 -
Description
The FirstLane double swing security entranceway offers high bi-directional traffic flow and uncompromising security. With its sleek, modern design, the FirstLane is designed to blend seamlessly into any architecture.
Equipped with high throughput and a proprietary detection system, the FirstLane ensures accurate user tracking.
The FirstLane is a modular product, which can be installed in single or multiple lanes and combined with standard and wide passages within the same battery.
Its new dynamic pictogram provides a better user experience by offering much more intuitive information.
-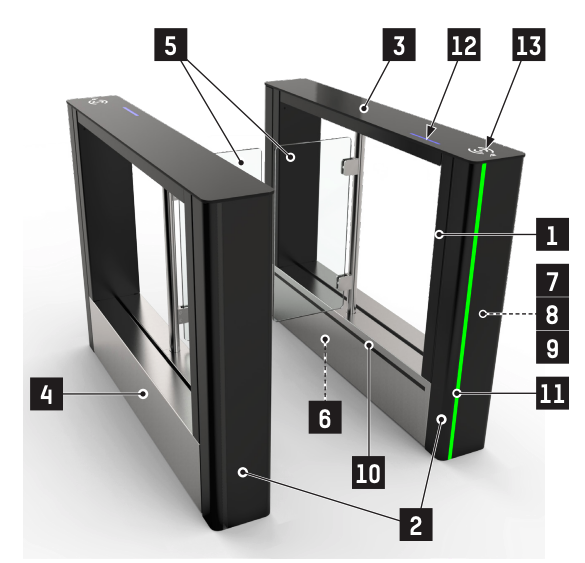 Default Equipment
1. Sturdy and stable frame made of steel treated against corrosion by RoHS electro-galvanizing. The visible parts of the frame are made of stainless steel AISI 304L with Brushed No. 4 finish.
2. Extruded aluminum front panels painted in black RAL9005, with integrated dynamic pictograms.
3. Aesthetic top shelf in 8mm thick tempered monolithic glass with black silk-screen printing. The glass shelf is very resistant to scratches and allows the integration of contactless readers and pictograms without the need for cutting.
4. Body elements (access panels to internal elements) in stainless steel AISI 304L with Brushed n°4 finish.
5. 10 mm thick tempered monolithic glass passage obstacles, with clear color, pivoting in the user's direction of passage.
6. Electromechanical units for driving the obstacles, each consisting of: - a Brushless DC motor with permanent magnets and a spur gear reducer. - a controller ensuring progressive acceleration and deceleration of the mobile obstacles, for vibration-free movement and increased user protection.
7. Electronic control logic for advanced traffic management. An integrated web server, accessible through any web browser, provides a simple interface for configuring the functional parameters of the lane as well as a complete diagnostic and maintenance tool. This maintenance interface is common to several Automatic Systems products and greatly facilitates product maintenance. The FirstLane can also be managed by the 'Smart & Slim' supervision panel and/or the 'Smart Touch' interactive control panel.
8. Transfer of information with the outside world by XML-RPC protocol via an Ethernet interface.
9. Transfer of information by dry contacts: passage authorization, passage information, fraud, technical fault, ...
10. Proprietary DIRAS detection system, consisting of a high density matrix of emitting/receiving photocells. The DIRAS system follows the progress of users in the lane and ensures their safety when opening/closing obstacles. The new detection algorithms guarantee high performance for the detection of small trains (even when people are very close to each other) and other types of fraud.
11. Large dynamic orientation pictogram indicating the lane status. It provides good visibility from a distance to ensure a high flow of traffic.
12. Dynamic function pictogram, near the reader integration area, indicating the user's authorization to pass.
13. Easy integration of contactless readers 'STID ARCS-A/BT' (RFID, NFC) or 'MACE MM' (QR Code) under the glass shelf.
Options
1. Free passage width of 900 mm (wide corridor).
2. Electromagnetic toothed brake guarantees that obstacles are locked in the event of a forced opening attempt.
3. Fixed glass side walls.
4. Escape route button according to EN 13637.
5. Smart & Slim' supervision panel.
6. Smart Touch' interactive configurable control panel. Note: for restrictions on options, please refer to the price list.
Work done by Customer
- Floor fixing.
- Power supply.
- Wiring between lanes of the same battery.
- Wiring to external devices.
- Integration of any accessories.
Note: please refer to the installation plan.
-
Default Technical Caracteristics